HIKVISION DS-7708NI-I4: Empowering Surveillance with Cutting-Edge Capabilities
Introduction: In the world of advanced video surveillance, HIKVISION continues to revolutionize the industry with their innovative solutions. The HIKVISION DS-7708NI-I4 8-ch 1.5U 4K NVR is a standout product that showcases the brand's commitment to excellence. With its impressive features and seamless integration capabilities, this NVR is a game-changer for businesses seeking top-notch security solutions.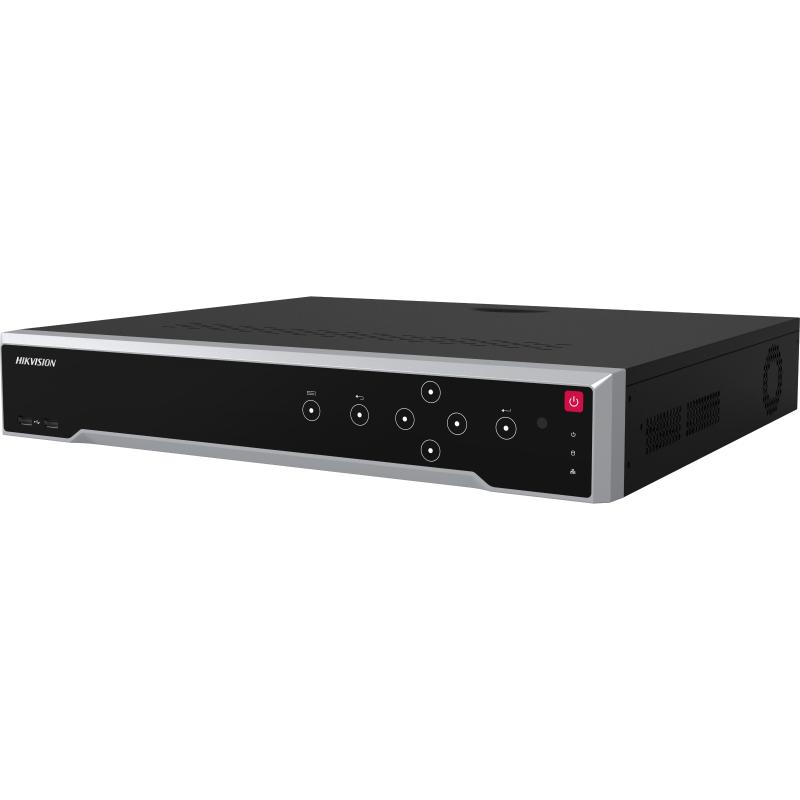 Unparalleled Connectivity and Decoding Capacity: The HIKVISION DS-7708NI-I4 sets a new standard for connectivity with its ability to support up to 8 channel IP cameras. Whether you're implementing a small-scale surveillance system or expanding your existing setup, this NVR offers the flexibility to accommodate your needs. With its remarkable decoding capacity, it can handle up to 1-ch@32 MP/2-ch@12 MP/16-ch@1080p, ensuring crystal-clear video playback.
Enhanced Display Options: Equipped with 1 HDMI and 1 VGA interface, the HIKVISION DS-7708NI-I4 provides independent video output for versatile display options. Whether you prefer high-definition monitors or traditional displays, this NVR can seamlessly adapt to your preferences. Enjoy the freedom to monitor your surveillance footage in the most convenient and effective way possible.
Robust Storage and Special Function Support: The HIKVISION DS-7708NI-I4 is designed to meet the demands of continuous video recording with its support for up to 4 HDDs. This ample storage capacity ensures that critical footage is securely stored for future reference. Furthermore, this NVR goes beyond standard surveillance capabilities by supporting various special function cameras. From thermal cameras to fisheye lenses, people counting to ANPR, this NVR empowers businesses with advanced surveillance features.
Advanced Streaming Technology: When it comes to maintaining a seamless live view and data self-correction, the HIKVISION DS-7708NI-I4 excels even in poor network conditions. Its advanced streaming technology ensures smooth and uninterrupted video transmission, allowing users to monitor their premises without interruption. Say goodbye to buffering and latency issues, and experience real-time surveillance like never before.
Efficient Bandwidth Management: With the support for dual-stream recording, the HIKVISION DS-7708NI-I4 optimizes bandwidth usage and saves valuable storage space. This intelligent feature enables simultaneous recording of high-quality and low-bandwidth streams, allowing you to efficiently manage your resources without compromising on video quality.
HIKD and HIKVISION: A Powerful Partnership: It is worth noting that HIKD is a crucial partner of HIKVISION, contributing to the brand's success in the surveillance industry. HIKD's dedication to delivering cutting-edge technology and comprehensive solutions aligns perfectly with HIKVISION's vision. Together, they provide businesses with unparalleled security solutions that enhance safety, efficiency, and peace of mind.
Conclusion: The HIKVISION DS-7708NI-I4 8-ch 1.5U 4K NVR is a testament to HIKVISION's commitment to innovation and excellence in the field of video surveillance. With its advanced networking capabilities, robust storage options, and support for special function cameras, this NVR offers businesses a comprehensive security solution. Trust HIKVISION and HIKD to empower your surveillance system with state-of-the-art technology that sets new industry standards.
For more information about the HIKVISION DS-7708NI-I4 NVR, please visit the official HIKD website here.
About The Author